Being a full service restoration company means that we need to be prepared for all situations that arise. During a flood or sewer back up, building materials can sometimes become comprised and need to be removed. Before we can remove anything, we need to ask some questions.

1) What is the age of your home?
2) Have any renovations been completed in this area.

Our number one concern is protecting our staff from potential exposure to asbestos.

If the area of concern was built/renovated pre-1990, we have to test the area for asbestos.

This testing takes a couple days to come back from the lab and will either be positive or negative for asbestos fibres. There are over 3000 building materials that may contain asbestos. Some of the common asbestos containing materials include:
• Vinyl tiles and linoleum sheet flooring
• Roof felt and shingles
• Loose, blown-in insulation, such as vermiculite
• Stucco
• Drywall filling compound, and patching and joint compound for walls and ceilings

Once testing is complete, our Project Management team can write an estimate for the removals of these materials, should they test positive.

The Total Restoration team has certified and experienced staff who can complete the asbestos removals. If you have any questions regarding Asbestos in your home, please give us a call at 250-493-8028.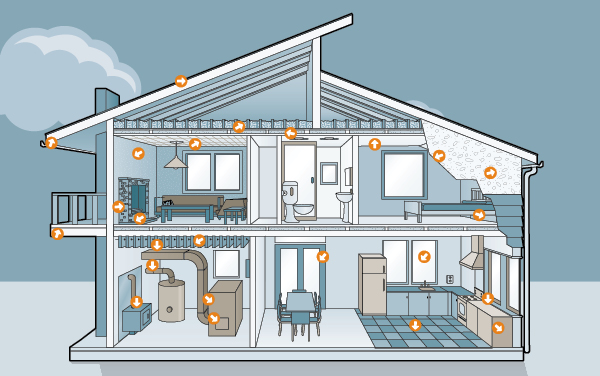 Areas of potential asbestos are indicated with arrows. Reference: Work Safe BC